---
Though Cappa's Kennel has retired from breeding German Shepherd Dogs, we would be more than happy to point you in the right direction if you are looking for a reputable breeder.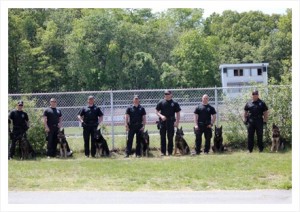 Pictured: 7 of the 8 Cappa's German Shepherds that competed at the Police Dog Trials outside of Boston, MA. All were top finishers.
A highly respected breeder of German Shepherd dogs, Gail Cappadona raised and trained police, personal protection, sport, service and companion dogs for more than 30 years. During her long, successful career, Gail trained literally hundreds of family dogs; many titled sport dogs; numerous accomplished police, bomb and tracking dogs, a Canadian National Champion and a canine sentry for Air Force One.
We currently have no litters planned.
Our Dogs