German Shepherd Breeder
German Shepherd Dogs & Puppies for sale
FOR SALE:
Retired Breeding Female – Companion Dog

Helga vom GrimOrkie "Helga"
At 6 years young, Helga is a spayed retired breeding female, ready to spend her days chasing the ball, lounging, swimming, and adventuring. She is housebroken, well trained, and obedient, but does not do well with other dogs or cats. Helga's new best friend must have a fenced in yard and experience with the German Shepherd breed. Please email care@cappaskennel.com or call (603) 642-8811 to inquire.
Price upon request. Special consideration for service members.
---
Dogs & Puppies
For Sale:

No litters planned at this time for 2017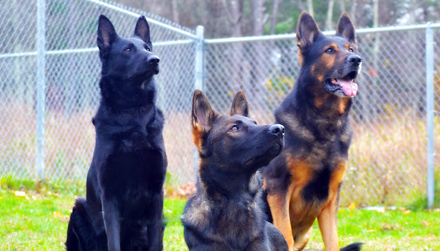 Pictured: Cappa's Havok with his parents (Bitter vom GrimOrkie & Rolex von de Lobdeburg)
Gail Cappadona has been selectively breeding German Shepherd dogs for over three decades. With only two to three litters a year, and with all litters born in her home, she is uniquely positioned to give her pups the attention and handling they need. Since the beginning, Gail has followed the U.S. Military's "Bio Sensor" or "Super Dog" protocol. These early neurological stimulation exercises have been proven to have a lasting, positive effect on puppies that are lucky enough to receive them. At 4 weeks of age, after house breaking and crate training have begun, Gail holds one of  her famous "puppy parties." This "by invitation only" event introduces every Cappa pup to all types of people in a controlled group setting. The end result is a sound German Shepherd puppy that has the foundation to fulfill the role he or she has been selected to play: companion, sport, protection, working and/or police dog.
 Growing up Cappa's: new experiences and challenges every day.
Meet the Puppies
If you are interested in our next litter and would like to put your name on our Puppy Party list or arrange a private visit to meet our dogs, just fill out the form below: we'll be happy to contact you. Keep in mind, too, that Cappa's only takes 2 deposits per litter. If you would like to reserve your puppy pick, please contact Gail about placing your deposit.
---
… more about Gail
The objective of Cappa's breeding program is to produce versatile dogs that have the genetic foundation for sound minds and bodies.
Puppy Party!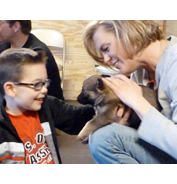 At 4 weeks of age Gail invites in friends young and old to help her socialize her newest brood