---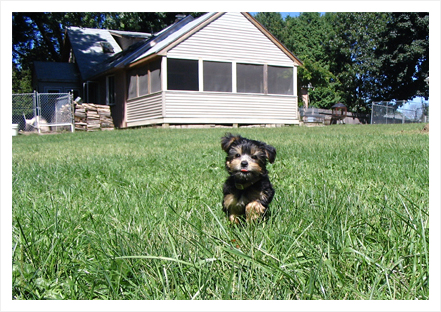 A dog boarding kennel in New Hampshire
Click below to review, fill out and print our forms:
Cappa's Kennel is a licensed, professionally run, dog boarding facility that offers luxury,  indoor/outdoor runs, cots, central heating & air conditioning and supervised out door play in our large, fenced yard. There is no extra fee for the administration of medications or playtime: both are included at no extra cost.
A skilled staff member is always on-site, and because Gail lives on the property, supervision throughout the night is never absent from her circle of care. Unlike so many other kennels that make you think it's great to put large groups of "perfect strangers" out to play together, Gail knows better. Play-dates are only allowed after she and her staff get to know all of the participants, well. At Cappa's, play time is always supervised and playmates are always very carefully chosen–if at all.
Last but certainly not least, unless you tell us that your dog prefers a crate, they are simply not a part of our boarding "vocabulary."
TOURS
We are proud of our facility and welcome your visit. However, to avoid any undue stress to our "guests," we limit the number of visitors at one time and per day. While much of the facility will be visible during your tour, we restrict some areas so as not to interfere with the operation of the kennel. Keep in mind, too, that tours are by appointment only. Thanks for your understanding!


Cappa's Kennel uses, recommends and sells dog toys crafted by Squishy Face Studio. Click here for the Squishy Face Products Order Form
Watch Gail play Squishy (Flirt Pole and Bungee) with Cappa's Ghilly.