---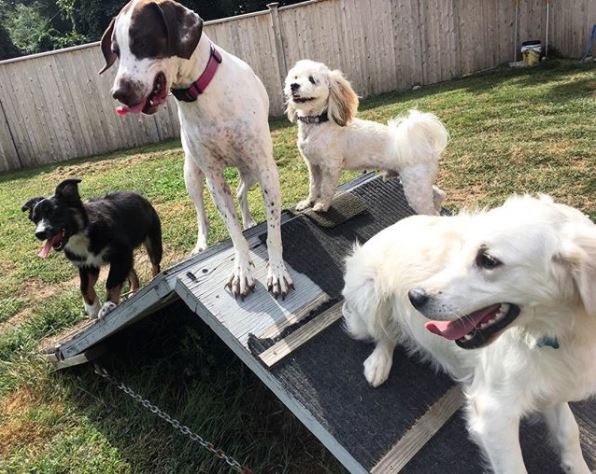 Play All Day!
$25/day from 8am-6pm (Sundays 12pm-6pm)
In addition to our boarding service, Cappa's Kennel offers a one of a kind, personalized daycare as well. Not every dog enjoys the typical daycare setting: a large group of rambunctious dogs running around crazy, all day long. Just like humans, dogs need a break as well, and all dogs are different as far as what they like to do for fun. Here at Cappa's your dog will have an indoor/outdoor kennel in our boarding facility even if he/she is here for daycare. If your pup doesn't enjoy other dogs, they will not be required to be with them. Daycare for your dog can simply mean coming here to lounge for the day, play ball or frisbee with a staff member, take a pool break, or even take a run on our dog treadmill. We try to accommodate our "guests" individual preferences as best we can. To do so we take the time to interact and get to know your dog while here. By doing this, we'll be sure to satisfy his/her needs and make the day as enjoyable and stress free as possible.
We do offer play groups to dogs that enjoy canine friends – please note that not every dog is good match for a play group. We'll be happy to try your dog out with our other day care dogs and provide our honest opinion as to whether or not your dog enjoyed the experience. That said, if your dog prefers one-on-one play during the day, no problem. Individualized playtime is offered at no extra charge. In addition, if your dog has special needs that require attention during the "play" day, a skilled staff member will administer medications or prepare extra meals as directed. Cappa's prides itself on offering an all-in cost per day: this service, like the others, is complimentary.
Daycare Package
Purchase 4 days of daycare for $100, get a 5th day free! (A $125 value) Must be used within one year of purchase date.